Ehomful Action Camera 4K 16MP Underwater WiFi Waterproof 100 feets 170° Wide Angle Len 2" LCD Remote Control




Ehomful E20-1 Action Camera is the most powerful and easy-to-use : with video in 4K, pictures in16MP, voice control, remote, built-in WiFi and waterproof design.
Clean and stabilized video, clear audio and professional-quality photos combined with remote control make E20-1 the best action camera.
Ultra HD 4K & 16MP Resolution
Ehomful action camera shoots professional 4K/30fps & 2.7K/30fps video and 16 megapixels images without freeze or skip, which is 4 times the resolution of traditional HD 1080P action cameras.
Not all players can support to play 4K videos, please use QuickTime to play the video.
Support HDMI output, can watch the beautiful videos & pictures on TV.

Waterproof 100 feets
The waterproof case included enables you to dive under water up to 100 feets
Ehomful waterproof camera can capture all your details of adventures, interesting self-fie and amazing videos. This action cam is ideal for outdoor activities such as scuba diving, snorkeling, surfing, swimming, skiing, skating, cycling, golfing, running, hiking, riding, etc.

Built-in WiFi & APP
Ehomful 4k sports camera can connect with your smart phone via built-in WiFi. And share your important moment to Facebook, Twitter, YouTube and Ins with your friend and family.
Wireless Remote Control
Wear the remote control on your wrist and acquire ultra-convenient control for hiking, biking, skiing, bungee and more while installing the action camera on your helmet. Wireless range up to 10m(33ft). Remote is waterproof, but cannot use underwater.
Time Lapse Recording
In the time-lapse capture mode, individual video frames are captured at intervals of 0.5/1/2/5/10/30/60 seconds, and a video that is much faster than real-time is created. In this mode you can flowers are blooming, sunset or clouds changing.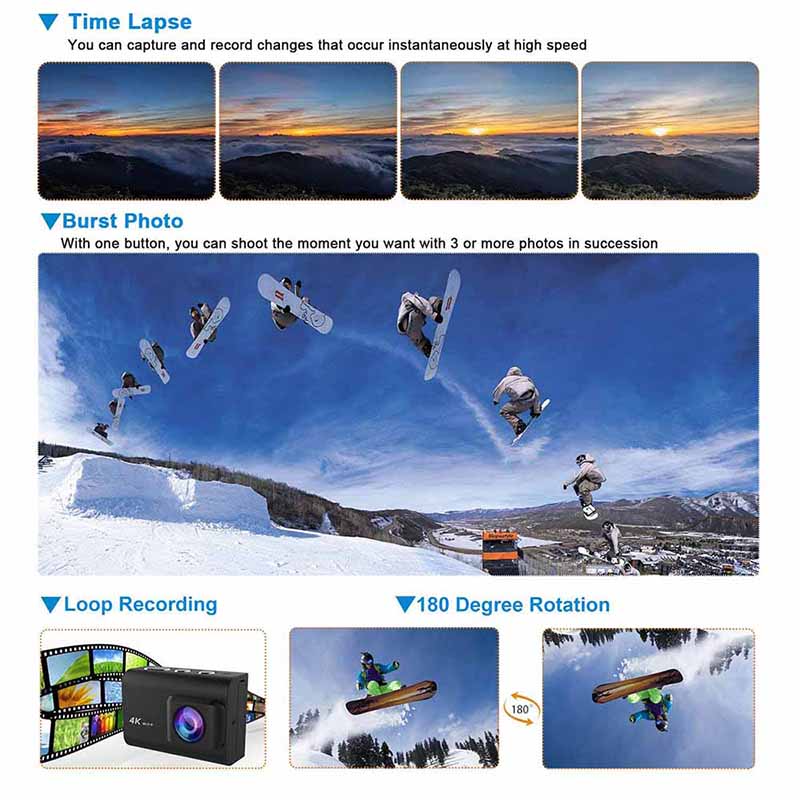 Package:

1x Camera, 1x Waterproof Case, 2 x Battery, 1x Long Screw

1x USB Cable, 1x Handlebar Mount, 1x Pole Mount, 1x Bukle Basic Mount

1x Triopod Mount Adapter, 1x Mount, 1x Pivot Arm, 1x User Manul

1x 2.4G Remote, 1x Remote Bandage, 1x Remote Button Cell, 1x External Mircrophone
Specifications:

Video Resolution:

4K: 3200*1800 30fps/ sec (EIS);2.7K: 2560*1440 30fps/ sec (EIS);1080P:1920x1080 60/30fps/ sec (EIS) ;720P:1080*720 120/ sec (EIS);4K: 3840*2160 30fps/ sec

Photo Resolution:20MP/16MP/12MP/8MP/5MP

Lens: 170°Super Wide-Angle Lens

Video/Image Format: MOV/JPG

Wi-Fi Connection: Android/IOS supported

USB Interface: USB 2.0

Battery: 2 Removable and Rechargeable 1050mAh batteries

Continuous photo time: up to 200 minutes

Charging Time: About 2 hours

Waterproof Case Depth Rating: 40m/131ft
Question: Does the time lapse mode save a video file when it is done (.mp4, .mov, or .avi)? Or does it save a bunch of individual sequential still pictures?
Answer: It's video mov.

Question: I can't find any way to connect to my wifi. i have downloaded that dv app on my iphone and it asks you to pair it. that option is not in the menu.
Customers are chatting about this View conversation
Answer: To turn on the WiFi, you need to press and hold the button in the middle for 30 seconds, you can view the manual.

Question: does this have a hole on the bottom to screw to mounts without the case?
Answer: yes,dear,this have a hole on the bottom to screw to mounts .

Question: How do you open latch to battery door?
Answer: I am sorry, the camera was a gift to a friend and hasn't opened it or used yet. I think the company will answer your question.

Question: I dont want the external mic. Can it still record sound with NO mic?
Answer: Yes, the camera can record sounds.

Question: I bought this camera because my hands shake. The pictures are crisp but the color is very diluted. Is that normal?
Answer: Have you turned on the EIS shooting mode? I think you can adjust the camera mode.

Question: Does the camera have a mini hdmi? no visual or mention, but most do.
Customers are chatting about this View conversation
Answer: Yes,the camera have a mini hdmi.

Question: How is the effect of external microphone ?
Customers are chatting about this View conversation
Answer: The camera can use an external microphone, with the built-in noise reduction mode, high-fidelity target sound quality, greatly enhance the outdoor audio recording effect.

Question: Recieved today. 64g c10 card. transfer to my android phone, and no video files show up. please help!! two pics i took do show up in the gallery. help!
Customers are chatting about this View conversation
Answer: Dear friend, probably because your mobile phone does not download a player that supports 4K video playback, I suggest you download Windows media player or WVLC PLAYER or QUICK TIME PLAYER or POTPLAYER,

Question: What's the biggest sd card and what kind of micro sd card do i need to get for this camera
Answer: This camera is compatible with 8GB,16GB,32GB,(64GB selected)capacity micro SD,micro SDHC and micro SDXC memory card. You must use a micro SD card with a Class 10 (80M/S) speed rating at least. We commend using brand-name memory cards for maximum reliability in high vibration activities

Question: does it come with the case still? i dont see case in description.
Customers are chatting about this View conversation
Answer: Are you talking about waterproofing? You can refer to our accessories picture, our waterproof case can go underwater 40m.

Question: Can I control this camera when I install it on my helmet?
Answer: Yes, with our accessories you can install on the helmet to control the camera

Question: Does this camera do slow motion video recording? time lapse? Can it take sports mood photos?
Answer: Of course, the camera has multiple shooting modes.

Question: Do I have to charge the battery before using it for the first time if yes for how long?
Answer: Yes, it takes about 3-5 hours.

Question: How to delete video/pictures from camera?
Answer: Can be deleted in the camera

Question: What android app works for wifi camera controls for this specific camera?
Customers are chatting about this View conversation
Answer: You can download "live dv".

Question: Is there an Apexcam 4k frame/case for dry use (bike) and make it easier to hold in general? Plastic case is bulky & not good in sun.
Answer: You can use accessories:pole mount,mount,pivot arm;
these three accessories can be used to assemble the camera onto the bicycle.
If you need to assemble the drawings in detail, you can provide me with an email address. I can give you the assembly method map.

Question: I am having trouble finding wifi and remote on the camera. i looked at general settings and they don't show. can you explain?
Answer: Hey, dear friend, you can open the WiFi by pressing the button in the middle for 30 seconds while shooting. You also need to download Live DV; the settings of the remote control are in the camera settings, and you can find it again.

Question: Does it have loop recording? If yes what length are the file loops?
Answer:Yes.