Ehomful Wireless WIFI Hidden Spy Alarm Clock IP Camera E032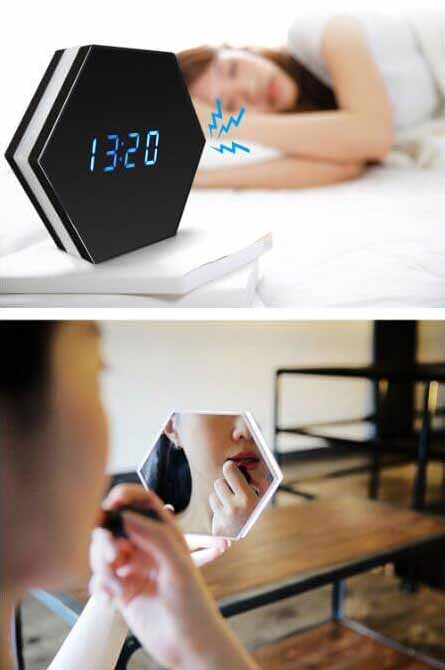 The Ehomful Wireless WIFI Hidden Spy Alarm Clock IP Camera makes it easy to look after your home or office.
Disguised as a normal clock, the camera records full 1080p HD video giving you a clear view of your property.
You can watch out for theft, keep an eye on your employees or make sure your loved ones are safe and sound.

No one will suspect the Wireless WIFI Hidden Spy Alarm Clock IP Camera is anything more than a regular clock.
It looks and works just like a normal clock, so you don't have to worry about the device giving away your secret.
Just put clock on your desk or a shelf and you can record video in plain sight. In the meanwhile, it can be regarded as a mirrow without cause attention.
If someone is doing something inappropriate on your property, you can capture all the evidence without anyone being the wiser.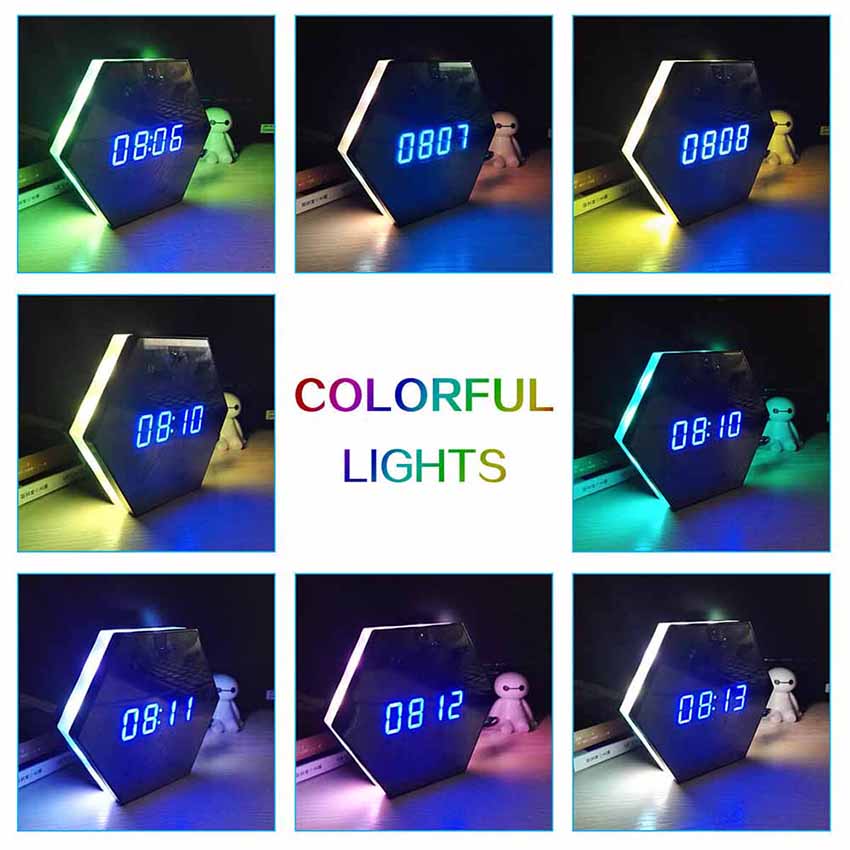 The Ehomful Wireless WIFI Hidden Spy Alarm Clock IP Camera is also a motion detection alarm.
You don't have to keep staring at the live feed waiting for something unexpected to happen.
The camera comes with a motion-activation feature, which means it will only start recording when it senses motion nearby.
It will send you a message on your phone or tablet as soon as it starts recording, so you won't miss anything important.
As soon as you see the message, you can log into the app to see what's happening on your property, so you can take action immediately.



The Ehomful Wireless WIFI Hidden Spy Alarm Clock IP Camera with 1080P Horizontal Resloution. It can providing high quality viewing Experience.
And it with colorful light to adapt to different environments.
Overall, the Clock Security Wi-Fi Camera is one of the best hidden cameras on the market today. With live streaming and night vision, you can see everything that's happening on your property when you're not around. Take control of your home or business with the Desk Lamp Security Wi-Fi Camera.

What Will You Get in The Box:




Features:
*1080P HD Wifi Clock,strong night vision,180 degree wide angle.
*Supports Real-time video remote view and hear the clear voice in App anytime and anywhere.
*User friendly APP.You can easily monitor, record videos, and snapshot photos anytime and anywhere via Internet connection.
*Motion Detection Alarm Function.Alarming Notifications will be transferred to your Smartphone when the motion detection is activated. When you go out, you can set your camera to alarm you when camera detects movement.
*The record videos can be stored into Misco SD card at the same time in order to view it when need. It max support 64GB(not included).
*TF Card Loop Recording.Insert the Misco SD card into its slot, power it on, the camera will start to record automatically.
*Phone can connect max 4pcs Clock cameras at the same time.
*The clock camera can be used as a display clock and display the time.
Package
1 x HD 1080P Alarm Clock Camera
1 x USB Charging Cable
1 x User's manual
1 x CD Disc
Specifications
1) Real-time Video Recording, Support 1920x1080P Full HD Video Resolution
2) Wide Angle: 140°
3) Memory: support Micro SD/TF card up to 64GB (memory card is not included)
4) Rechargeable Battery Built-in, Battery Capacity: 3500mAh
5) Continuous shooting time: 5-6 hours
6) Distance of motion detection shooting:6m straight-line distance
7) Mobile phone operation system: Android / iOS
8) Computer operation system: Windows/Mac OS X
Question: What is the highest gb sd card this will take?
Customers are chatting about this View conversation
Answer: Capacity support up to 64GB.

Question: Does it show it is a camera?
Answer: No. It is a hidden camera

Question: Can you have more than one in the same house?
Answer: Yes.

Question: Could this be used in a nursing home where there is no wifi available, or does the app connect directly to the devices wifi without a router?
Answer: Yes.The device connects to the app via WIFI.

Question: How long does this record with an SD card? I'm going out of town for a week and need something that will record non-stop. Does it record while charging?
Answer: It depends on how much memory the SD card has. Yes,it can recording while charging.

Question: Is the power supply rated 110-240v
Answer: No. 5 volts from USB. 120 volts on the primary side of the USB charger and 5 volts on the secondary. Uses micro USB male connector.

Question: How many GB are used in one whole day of recording?
Answer: It depends on the size of the micro disk you buy. I bought one 32GB and it holds 7 Days from 6am-7pm.

Question: Can you still record & just watch playback if you dont have wifi?
Answer: Yes,you can insert a SD card as a Normal video tools,and the video will automatically saved on the SD card. But we recommend use wifi function that when you have completed the whole connection,you can view remotely through the wifi.

Question: Will this record sound as well?
Answer: Yes it has a very sensitive microphone

Question: Does the image have a pink tint to it?
Answer: No

Question: Can I leave it plugged in like a normal alarm clock and everything work properly?
Answer: Yes. we have 2 of them and they are both plugged in.

Question: If my friend is setting up the camera at their house on their wifi network, can I still connect to the camera from my wifi using the app?
Answer: Yes you will be able to access the camera with the app and your wifi. My camera is physicality located in Texas and I have accessed it thru the internet from several several states.

Question: I'm having problems getting the camera to switch to the ir led night mode. when it's dark, nothing is visible. any tips?
Answer: Maybe you haven't open the night vision.You can go to set up on app.

Question: Are you able to share the live feed with other people in different locations in real time?
Answer: If you had them download the app and give them your username and password to your account then they could see the live feed.