Highlights of Ehomful E17 Body Worn Pen Camera

√ Perfect for covert, portable surveillance device in your hand

√ Utra wide angle len with capturing 140 degree field of view

√ Provide exact clear video or image at 1080P@30fps

√ One Key Press for recording

√ Extrem convenience with USB plug for data reading anytime

√ Clips onto clothes for wearable surveillance

√ Long lasting battery inside last up to 220 minutes recording


The Ehomful E17 body worn pen camera measures 11cm x 2.5cm x 1.4cm for easily hold or wear.
Camera is a powerful surveillance tool that looks and works like a normal USB flash drive.
It has USB plug that you can directly plug into the USB slot on your computer or laptop.

Never miss what amazing happens. This camera is extremely easy to record at anytime and anywhere you want.
One button slide power ON/OFF on the side, one button press record to pause on the top.
Smart led indicator with a complete clear logic.Keep your note where you start all the time.
Completely light turned off for hidden purpose while in the recording process.



You can wear the camera on your clothes or bag using clip.
Whether you're at home,work,or walking down the street,no one will suspect that you're recording video
.Also you can keep it on the desk or carry it around bookshelf.
It's perfect for recording video on the go, capturing your personal
conversations or for keeping an eye on your valuables.




Wearingg around the neck is another great option for nice fashionable decoration.
The camera features an ultra wide angle lens, capturing a massive 140° field of view,
effectively recording everything that goes on in front of the camera.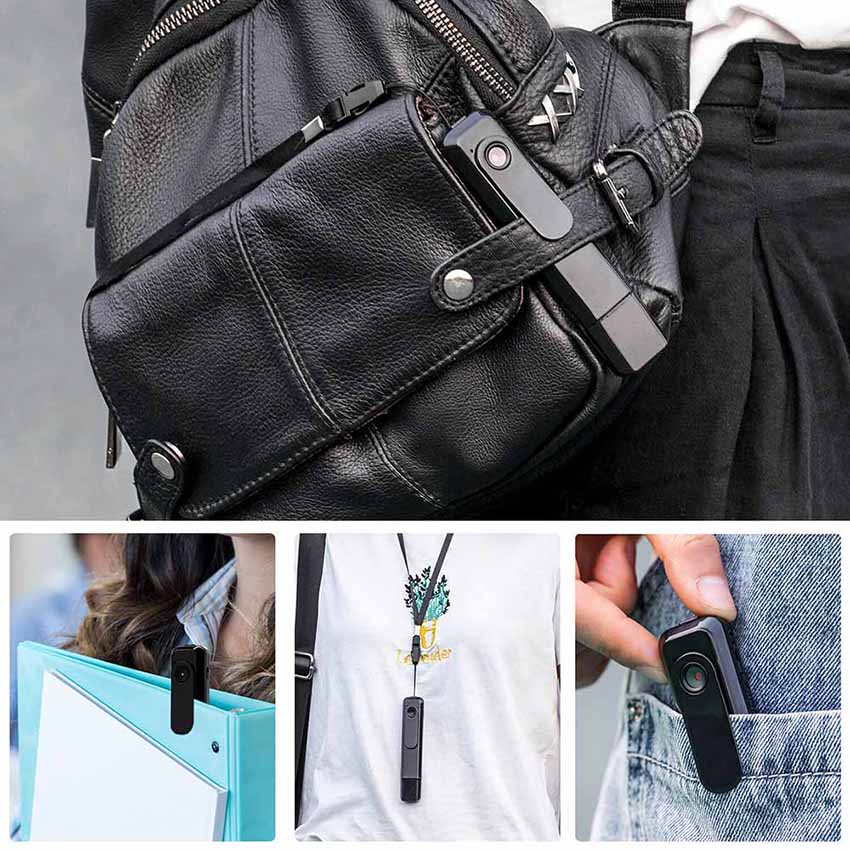 The Ehomful E17 body worn camera is designed for portable surveillance.
The device comes with up to 220 minutes of battery life.It also can be wired
with extra power and lets you keep shooting for 24/7 hours.




What's in the Box?
1 x body camera with USB slot
1x USB 2.0 cable
1x Quick start Guide
1 x Lanyard


What's in the Box
1x body camera with USB slot
1x USB 2.0 Cable
1x Quick Start Guide
1x lanyard


Question: How long will it record?
Answer: It can support constantly video recording for 180-240 minutes. Also, it can charge while recording.

Question: Is be used as a live camera/ baby monitor with a cell phone
Answer: It can not be used as a live camera with cellphone.

Question: Is the audio available while video recording? Are both features available simultaneously is what I'm asking.
Answer: Yes, Audio available while video recording. it also can do audio recording separately

Question: does this work with mac computers?
Answer: Yes, it work with Mac computers. It connected via USB

Question: Can I remove the sd card and play the recorded videos on my android phone?
Answer: No, it can not play on cellphone.

Question: Does it do loop recording? Like when it gets full, it'll just record over the old stuff.
Answer: Yes, it does loop recording.

Question: does this camera have night vision?
Answer: No, it does not have night vision.

Question: how do i convert instructions to english so i can use it
Answer:Here is the instruction about how to set time:
Insert a Micro SD card and connect the camera with computer, go to" your computer" —"removable disk "—"settime" Open the settime file and set the time like : 2018-01-24,23:59:59 and save it.

Question: How long will it run with a full charge?
Answer: Hi, it will run 3-4 hours.

Question: Where are the instructions to set up wifi - and also where are online videos
Answer: It can not set up wifi and no online videos.

Question:how to record
Answer: Switch to video mode, blue LED will be on; tap "OK"key, video recording will start and the blue LED extinguishes after flashing several times; tap "OK" again to stop video recording; the video will be saved automatically as 5 minutes per file.

Question: How do you change the resolution to 1080p? I followed the instructions but the video quality is still low.
Answer: Please create a new TXT document named 'settings' in the root directory of the card. Input contents as '1,1,1" , each number is optionally 0 or 1(The first number: 0 means 720P, 1 means 1080P. The other two are corresponding to loop video recording and time watermark; 0 means disable, 1 means enable)

Question: where can i go to download the software?
Answer: this camera do not need to download any software. If you mean set time, once insert a TF card, it will generate a txt file named "settime" in the root directory of SD card. Save and disconnect the USB connection, then restart the product. The time in txt file will recover to the initial time.

Question: How to switch to different mode?
Answer:you can charge the battery 2 ways. There is a cable that comes with the pen that connects to either a USB charger (charge not included but can be found anywhere) you can plug into the wall which is the fastest way or by plugging into your computer (the slowest). It takes about 2.5 hours to charge and the light blinks yellow until charged...not advised to leave it plugged in after it is charged though.