Multiple scenario use
With a display screen, real-time camera status, carry-on, easy to operate, listening to music, meetings, classroom notes, outdoor play, etc.,
recording anything you want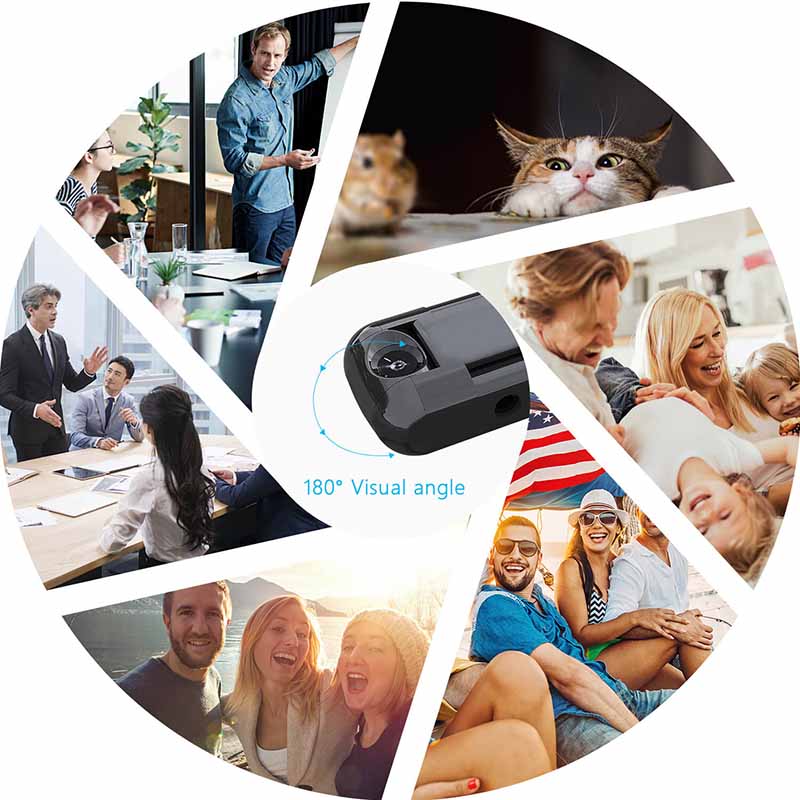 ● Camera is equipped with a rotating lens that can be twisted around 180° on the edge of the device.

● The camera can be set to trigger video capture when it detects motion, this allows the camera to remain on standby for a very long time without charging.

● The camera features an ultra wide angle lens, capturing a massive 120° field of view, effectively recording everything that goes on in front of the camera.

● With 3.5mm MP3 slot to listen music or video file you recorded. You can keep recording anytime and anywhere while you are listening.
Why Ehomful E17 spy video camera? Here are how we look in difference:
Great performance on Battery
Enhanced with qualified lithium battery, camera won't appear to be overheat while it is recording. Battery can last up to 300 minutes.
3.5mm MP3 slot
Camera with MP3 slot will allow you to have the access to listen music or video you record in the camera. Also you can let camera record when you are listening.
Motion Detection
Camera can be set it to motion detection mode. Then camera will stay running but only record if there is any movement happening. In this situation you can put camera at any place, camera will work at a longer time without charging.
Clear to know where you are currently in
With OLED indicating screen, you definitely won't miss where you are while you are using. The OLD screen will display the mode icon to let you know where you are.
Manual for user think
We provide one complete but very practical instruction in user manual,which you can
Quickly get what you need.
Versatility to utilize
Camera can be clipped all over the body or any place at anytime anywhere.You can use it as small camcorder for daily life, hidden camera for protection purpose,surveillance camera for home and office security, body camera for working,sport and travelling, dashboard camera for car.
What's in the Box?
Body camera with USB slot x1
USB 2.0 Cable x1
User manual x1
Earphone x1
NOTE:SD card is not included!
Specifications:
Storage:SDHC,SDXC(64G) micro SD card of above class 4,FAT32
Video compression:M-JPEG
File format:AVI
Supported OS:Windows/Mac OS X
Battery:450mAh rechargeable battery
Record time: about 3 hours
Question: Does it come with an SD card?
Answer: The mini camera doesn't come with any SD card.

Question: Can this camera also be connected to a smart phone via iPhone or Android?
Answer: No. There is no user interface. You have to write a .txt document to apply your desired settings.

Question: will the device loop the video or do we have to erase and start over at the beginning?
Answer: Yes, the body camera will loop the video. A 5 minutes video clip is saved every 5 minutes. When the micro SD card is full, the small wearable camera will overwrite the first video clip and continue recording.

Question: How do i retrieve my videos and do i need a sd card.
Answer: You take out of the camera the SD Card and either put in a adapter or into a slot connected to either your phone or computer and find the software, this may be done automatically and viola, done. The SD card is NOT supplied with the camera.

Question: Is there a way to recorn audio and video at the same time?
Answer: Yes.

Question: How long is the recording loop with 128 card. What size is the card with 3 hours?
Answer: Greetings. The real capacity of 128GB card may be various. This mini video camera stores file every 5 minutes. And every 5 minutes video is 522M, one hour is 6.3GB.

Question: Does it show a date and time
Answer: Yes, because the mini camera doesn't have wifi connection, you have to connect the camera to your computer and set the correct time before recording video.

Question: Camera doesn't come with an SD card? What kind does it take, where can you get them, and how much do they cost??
Answer: Yes, the mini camera doesn't come with an SD card. We suggest to use Class 10 micro SD card. You can purchase it from amazon.com together with this small body camera. The price is dependent on SD card capacity and brand. Thank you.

Question: Does it have night vision?
Answer: This body camera doesn't have night vision.

Question: Can I have the camera take a picture every 5 minutes?
Answer: Yes but you need to press a button you can't schedule it.

Question: Is this camera waterproof?
Answer: This mini camera is not waterproof.